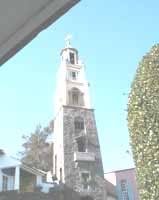 QUICK LINKS:
OTHER FEATURES: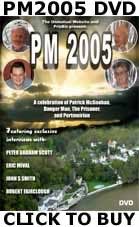 Well Come to The Unmutual Website - dedicated to the 1960s TV series "The Prisoner", starring Patrick McGoohan, and the village of Portmeirion in North Wales where the series was filmed.
LATEST NEWS.....
"THE PRISONER INTERROGATIONS", THE FIRST EVER 'PRISONER' QUIZ BOOK, ON SALE HERE!
STOP PRESS: Richie Havens, star of the McGoohan-directed "Catch My Soul" passed away in April 2013.... Portmeirion Pottery Shares news HERE....16/4 - Could AB&C Dream recorders be real? news story HERE....
EVENTS APLENTY FOR 2013
With the summer nearly upon us, it is time to update everyone on the many "Prisoner" related events taking place in 2013. Not only are there the regular walkabout/tour events, but also several other items of interest (outlined on the events page).
These include a very special "Evening with Derren Nesbitt" event on May 25th where the guest star of "It's Your Funeral" will be discussing his career at The Cinema Museum, and others as follows:
May 25th: An Evening with Derren Nesbitt by The Cinema Museum (more details HERE).
June 16th: Visit to Bletchley Park (left) - details HERE.
June 30th: Borehamwood TV/Film locations Bus Tour by Elstree Screen Heritage - details HERE.
August 18th-24th: Magic Number Six in Edinburgh - details HERE - already 10% sold out.
October 20th: Danger Man and Prisoner tours (London) - details HERE.
More events are also planned for 2013, watch this space!
With thanks to Dave Lally, Paul Gosling, Darren Stokes for this news item.


MERMAID PANEL DAMAGED
In the 1950s Portmeirion architect Clough Williams-Ellis purchased a set of mermaid railings from the Liverpool Sailors Home. Several were used in Portmeirion itself , and one was used for the entrance to a small shop in Pont Street, London where it became the first HQ for Portmeirion Pottery in 1960 (although the connection to Portmeirion has long since been broken.)
News has reached The Unmutual via expert Steve Mckay (whose first part of The History of the Liverpool Sailors' Home is available in the 2013 Journal of the Liverpool History Society) that this panel (left) has been damaged by the current owners, who have decided to drill holes through it and attach a cigarette "butt box" to it.
The current owners of the property have been contacted about the "vandalism" but are yet to comment.
With thanks to Steve Mckay for this news item and image (c) Steve Mckay.


WONDEROUS WALKABOUT
The recent April walking tours, organised and guided by David Lally, were as always a success with two tours taking place on Sunday 6th.
The morning tour took in mostly Danger Man locations (such as John Drake's flat, left) but also for the first time some Portmeirion and Sir Clough Williams-Ellis related locations which will now be a permanant part of the tour (HERE).
The afternoon saw the usual 3.5 mile tour of the London-based "Prisoner" locations attended by many people despite the cold weather. The next tours will take place in October 2013 - watch this space!
The recent "Prisoner" screening at Herts University by our friends at Elstree Screen Heritage also went very well and more such events are planned for the future.


JUST FOR THE RECORD
Network DVD have over the years provided fans with outstanding DVDs, Blu-Ray, and CDs and now in April 2013 can also add Vinyl to their list of available formats.
To coincide with "Record Store Day", where folk are enticed into independent record shops with the promise of Vinyl exclusives, Network released "Themes for Action", a 7-inch vinyl single which includes remastered versions of the themes from "The Prisoner", "Danger Man", "The Saint", and "Man in a Suitcase".
The item is only available from such stockists and not from Network itself, with Banquet Records (HERE) being the cheapest online retailer at £8 plus P&P. Vinyl LPs of such soundtracks are slated to appear in the future. Watch this space!
In other music news, Dr Feelgood's forthcoming 4-disc CD set also has a "Prisoner" theme. Called "Taking no Prisoners" the band can be seen on the front cover wearing piped blazers and giving a "Be Seeing You" salute (below).
With thanks to Network Distributing and Darren Stokes for this news item.


HOT BLOGGING
A name synonymous with "Prisoner" fandom in recent decades is that of David Stimpson, and The Unmutual Website is delighted to see that his online blog relating to both the original series and the 2009 remake, which is updated several times daily, continues to go from strength to strength. With a mix of fact and fiction, as well as images, artwork, and other content, the blog comes highly recommended by The Unmutual Website for its enjoyable and exclusive content.
Click HERE to visit the blog.
David, who wrote the book "The Prisoner Variations" and produced the fan film "Village Day" is working on a number of other "Prisoner" projects. Watch this space for more details in the future!
With thanks to David Stimpson for this news item and his continued support. Image (C) David Stimpson.


ERIC THE ARTIST
Although we would associate the name of Eric Mival with "The Prisoner" through his editing skills (he was Assistant Editor and later Music Editor on the series), Eric is also an accomplished painter and TUW was delighted to hear from him this week as Eric is offering his latest painting, "The Gravity of Gravity" (left, larger image HERE) at an exclusive price to Unmutual Website readers of £300, with 10% donated to Ty Gobaith Children's Hospice.
If you're interested in purchasing any of Eric's work, please contact TUW.
With thanks to Eric Mival for this news item.


UNIVERSITY CHECKMATE
April 18th 2013 sees a rare chance to see "The Prisoner" on the big screen, thanks to the University of Hertfordshire in conjunction with TUW's good friends at Elstree Screen Heritage, for only £4. Also screened from 7pm will be "The Avengers" episode "Something Nasty in the Nursery", and a few clips of interviews conducted by Paul Welsh MBE with veterans of the Elstree Studios.
More details regarding this exciting screening, at one of the UK's largest screens, can be found HERE.
With thanks to Paul Welsh MBE and Dave Lally for this news item.


MARCH 2013 PORTMEIRION NEWS
Quite a few news items have reached The Unmutual Website in recent weeks, so here is a little summary of them as they will all be of much interest to readers.
The first is that the BBC4 programme "Heritage! The Battle for Britain's past" featured Portmeirion and Sir Clough Williams-Ellis in a March 2013 episode.
In other news, part of the line-up for the 2013 Festival Number Six in Portmeiron, has been announced with none other than legendary Welsh rockers Manic Street Preachers (above left), along with James Blake, announced as headliners. The Manics of course are no stranger to Portmeirion having used the beach for the cover of their album "This is My Truth, Tell me Yours".
The Festival, a huge success in 2012 (see news items below) runs from 14th-16th September 2013 and includes live music, poetry, comedy, and more. For more acts click HERE and HERE or find Festival Number Six on Facebook!
In other local news, it has been announced that despite its listed status the bridge which runs accross the estuary from Portmeirion (by the Harlech toll road) is to be demolished and replaced (more news HERE).
Portmeirion can also now be seen as part of Google's Street View HERE.
With thanks to Catherine Frumerman, Brian Watson, SR, and Alan Smith for this news item and links.


GREATEST MAN ON DVD
Network DVD have over the years built up a reputation for releasing rare and incredibly high quality TV and Films, which otherwise would not have been released (including of course many Patrick McGoohan appearances).
February 2013 is no exception with the exciting news that "The Greatest Man in the World", an episode of ITV's "Armchair Theatre" from 1958 starring McGoohan in the lead role, is now available to order.
Not screened since transmission other than at The Unmutual Website's PM2005 event, the appearance is one of McGoohan's best and he won a TV Guild Award for his performance.
You can order the set direct from Network HERE or from Amazon HERE (type "armchair theatre"into the search box and charity benefits from 5% of the sale at no cost to you).


APRIL WALKABOUTS ANNOUNCED
One of the highlights of each years' "Prisoner Fan Calendar" is Dave Lally's popular (and free) London Location Tour of "Prisoner" sites, and two more are planned for this year, with the first taking place on Sunday 7th April 2013 starting at 2.00pm.
As a bonus, a bus tour of "Danger Man" and "Avengers" sites is planned for earlier that day, and in June a visit to Bletchley Park is also planned!
More Walking Tours will also be announced for October 2013 very soon, in the meantime full details of all the above events can be found HERE.


DEGREE ABSOLUTE FOR EARL
As announced on The Unmutual Website recently, "Prisoner" and "Danger Man" actor Earl Cameron was recently given an honorary degree by Warwick University (pictured left).
A podcast interview with Earl is now online. Recorded at the University, it includes some fascinating new insights into his long life and career.
Click HERE to listen to the podcast. The Unmutual Website would like to congratulate Earl Cameron on this recent award.
With thanks to Peter Dunn for this news item.


R.I.P. KATHERINE KATH
The Unmutual Website is sad to announce that Katherine Kath, who so memorably played the part of Madame Engadine in the "Prisoner" episode "A, B, and C" recently passed away at the age of 92.
Born in France and originally a dancer, she would grace both stage and screen with her presence throughout the 1940s and 1950s, culminating in her landing a part in John Huston's "Moulin Rouge"(meeting at that time Associate Producer Jack Clayton whom she would later marry).
She would later star in many great movies such as "The Man Who Wouldn't Talk" and "Mary Queen of Scots", as well as her wonderful appearance in "The Prisoner" and other TV shows, before retiring in 1987.
The Unmutual Website would like to pass its sincerest condolences to all who knew her.
With thanks to CJ Eales for this news item.


MORE MAGIC ON THE WAY
The successful "Magic Number Six" stage production (review HERE) telling the story of the relationship between Patrick McGoohan and Lew Grade, is returning to the stage in 2013, both in Leicester and at the Edinburgh Fringe!
The Leicester performance will form part of a double bill from Crooked Hand Productions with the play "Semper Eadem" at 7.45pm on Wednesday 13th March (doors 7.25pm). Entry is £5 on the door. The venue is; Upstairs at The Western, 70 Western Road, Leicester, LE3 0GA (just over the river from DMU Campus).
August 19th-24th will see a run as part of The Edinburgh Festival, with performances at The Space on the Mile (Theatre One), Royal Mile, EH1 1TH, priced at £7 (£5.50 concessions) - tickets available online HERE.
The play comes highly recommended by TUW, and more details can be found on the "Magic Number Six" website HERE.

CAN YOU HELP THE "MAGIC NUMBER SIX" SHOW?
From Paul Gosling, Producer, Crooked Hand Productions: "Can anyone help us source weather balloons at a reasonable price? Also, has anyone built flyable scale models of the village helicopter or a full-size model of the original 'Rover' ? We are looking to source authentic-looking props for future productions of Magic Number Six". Contact TUW if you can help!
With thanks to Paul Gosling for this news item.


RAFFERTY RESEARCHED
The Unmutual Website is delighted to announce that it is now host to some wonderful new research, conducted by Tom Mayer, plus detailed episode guide, to the 1977 Patrick McGoohan medical series "Rafferty", which starred McGoohan as the gruff individualistic Doctor Sid Rafferty (left).
The series, which ran for thirteen episodes and was only screened once in the UK, has never been released on either video or DVD and, until now, details regarding the series have been hard to find.
Click HERE to read the large article and follow the links to the episode guide. Click HERE for "TV Obscurity" reaction to the article.
With thanks to Tom Mayer for his hard work. Images (c) AOL Time Warner.


EARL'S NEW HONOURS
News has reached The Unmutual Website that Earl Cameron CBE (pictured left with Dave Jones at PM2007), who appeared in both "The Prisoner" and "Danger Man" has been honoured not once but twice!
Firstly Warwick University have announced today, 17/12/12, that Earl is to be given an honorary degree in January, more news HERE!
Another honour bestowed to Earl who appeared with Patrick McGoohan in no less than three episodes of "Danger Man" and as the Haitian supervisor in "Schizoid Man", is in his native Bermuda by having a theatre named after him.
The City Hall Theatre in Hamilton has been renamed "The Earl Cameron Theatre" in honour of the 95 year old actor. Full story and videos HERE.
With thanks to David Stimpson and Peter Dunn for this news item.


PORTMEIRION ART SALE
The Unmutual Website is delighted to announce a very exciting Art sale, with highly-prized originals created by artist Mathew Lock, some of which feature Portmeirion, available for a limited period only this Christmas.
The beautiful paintings are also available as prints if the originals are out of range price-wise, although all offers are considered. Mathew has very generously agreed to donate 10% of any sales of Portmeirion items to TUW's charity Event Fund.
For more details regarding the prints, the original art, and for more images, visit the Matlock Art Facebook page HERE.
INTERROGATIONS UNDERWAY
Many books have been written about "The Prisoner" over the years, but yet despite its enduring popularity no Quiz Book about the series has ever been undertaken. Until now!
"The Prisoner Interrogations" is a new officially sanctioned 86-page paperback book divided into 6 exam-like question papers all about the series. Written by Leslie Glen, it contains quiz questions, mental exercises, and colour photos and is a truly unique publication. Click HERE to read a full review of what is a great little book.
The book, priced at £6.99 plus P&P, is available HERE and at Portmeirion. Please note that as of 11/2012 the book will NOT be available at Amazon.


SUCCESS FOR MAGIC AND MASH
Recently, this website has been proud to announce several events during October and November of interest to fans of "The Prisoner" and TUW is pleased to say that all were a resounding success!
First up were the various events of the October Prisoner Weekend, which included several location tours (including London locations tour pictured left) and Leslie Glen's "Mind Mash" event.
All of these events had great turnouts (the Mind Mash event also attracted no less than 4 special guests, each of whom were interviewed on stage).
More recently was Paul Gosling's "Magic Number Six" one-act theatre production, which played to sell out crowds during its 4 day run at Leicester's Little Theatre (video clips HERE).
For an in-depth photo report of the Mind Mash event click HERE, for a review of the play click HERE, and click HERE for an interview with writer Paul Gosling.


UNDER THE INFLUENCE
The Unmutual Website is always delighted to be informed of new projects which whilst not directly related to "The Prisoner", Patrick McGoohan, or Portmeirion, nevertheless are influenced by the series and have Prisoneresque elements to them.
Not one but two of those have arrived in TUW's virtual in-tray this week in the form of two new novels by writers well known to TUW readers!
Simon Wells' "The Tripping Horse" is described by the author as "an odyssey of discovery that takes a person from a rather mundane place to somewhere completely outside of their zone - both physically and mentally."
Continues Simon; "As a Prisoner fan - I always wanted to write something that was in a sense similar in theme to McGoohan's own journey. I think those of us
who've come through The Prisoner experience, are aware that a large part of the story was played out in McGoohan's mind, and that the nightmare exists within us! The book is really an exposition of some of the things I've witnessed
along the way and while there's no bouncing balls or piped blazers, there's many things that wouldn't be out of place in "A. B & C" or "Fall Out"!
Also available, this time from the pen of Carmel Morris, is the two-part "The Chronokey" series of young-adult SF books, the 2nd part of which has Prisoneresque elements!
Both Simon and Carmel's work can be found on Amazon, simply click HERE and enter the book titles and charity will receive 5% of sales at NO cost to you.
With thanks to Simon Wells and Carmel Morris for this news item.


CARTOON CAPERS
Lew Stringer is a name which will be familiar to "Prisoner" fans everywhere. Not only was he the founder of The Unmutual Website, but he has referenced the series in several comic strips (Lew is a professional comic artist).
In addition to these talents Lew also runs a highly popular and successful Blog about comics, and one of his latest entries will be of high interest as it investigates the "Smash" comic strip "Charlie's Choice", which used "The Prisoner" as the basis for a strip way back in 1968.
Click HERE to read Lew's blog and see the full pages from the strip and more!
With thanks to Lew Stringer for this news item.


MODEL MANIA
The Unmutual Website is indebted to Paul Weston and Ian Price for contacting the site recently with images and details of some superb model-making which they have been undertaking.
Both are fans of "The Prisoner" and Portmeirion and between them have created models of the Electropass scene from "Arrival" (left), Number Six's House (below) and a Lotus 7!
Click HERE to see the models in full and with more details. Paul told TUW; "Labours of love is how I would refer to mine and Ian's work! As they take such a long time to craft our existing models aren't themselves for sale but thats not to say we couldn't be commissioned to create new versions, or in the case of my Portmeirion models new buildings and can contact us via your website for rates."
UPDATE 16/12/12 - Ian Price's models are now for sale! Contact TUW with an offer!
With thanks to Paul Weston and Ian Price for this news item.


BOB MONKS R.I.P.
The Unmutual Website is very sad to announce that Robert Monks, camera operator on "The Prisoner" and friend to TUW , passed away suddenly at his home on 26th September 2012.
An incredibly talented and innovative camera operator, Bob was present at both the 1966 and 1967 Portmeirion shoots and at MGM where he headed the second unit, and was also responsible for all the helicopter footage seen in the series and for filming the opening sequence in London.
A fascinating speaker, Bob will also be remembered for his incredible memory of events working on the series including his wonderful interview at PM2006.
A truly talented, kind, and generous man, Bob will be sorely missed by all who knew him and TUW extends its sincerest sympathies to his wife Ina, his seven children, and countless other family and friends. Farewell, Bob. Rest In Peace.
With thanks to Michael Lee.


LONDON PARKES
Following on from news that TV Historian and "Prisoner" writer Robert Fairclough will be attending the "Prisoner Mind Mash" event (see news item below), the organisers have announced two further guests for the event on Saturday October 20th in London.
Tess and Brandon Parkes are the wife and son of "A Change of Mind" writer the late Roger Parkes. Both will be interviewed about his life and work and a special screening of the episode will take place, along with special screenings of other "Prisoner" archive material.
With thanks to Leslie Glen for this news item.


TOUGH GUY TALK
Fans of the Patrick McGoohan series "Danger Man" may be interested to learn that actor Lee Montague, who appeared as Colonel Latour in the 1965 hour long episode "These Men Are Dangerous", is giving a talk about acting at Keats Community Library, 10 Keats Grove, London NW3 on Wednesday 17th October at 8.00pm.
Famous for his tough guy roles, Montague is also famed for being the first face on long-running series "Jackanory" in 1956.
Although the event is free to attend, a donation of £5 would be appreciated by the organisers. He will be accompanied by his actress wife Ruth Goring.
With thanks to Dave Lally for this news item.


ALL THE FUN OF THE FAIRCLOUGH
The organisers of the forthcoming "Prisoner Mind Mash" event, part of the October Prisoner Events Weekend (more details HERE) are delighted to announce that TV Historian and Author Robert Fairclough will attend the event as special guest.
Robert, who penned "The Official Prisoner Companion", "The Prisoner: Original Scripts", "The Prisoner Official Fact Files" and countless other works will discuss his latest and past projects and provide signed copies of his books and the design work he did on the 2009 Prisoner remake series!
For more details regarding the event, and to book tickets, click HERE.
With thanks to Leslie Glen and Robert Fairclough for this news item.


DETECTING THE BEST
Fans of other TV work of Patrick McGoohan will be delighted to hear that he appears not once but twice in a new DVD box set, available at Sainsbury's for £10, of episodes of "Columbo", which starred Peter Falk as the homicide detective lead character.
"Columbo - The Best of the Guest Stars" features two of McGoohan's guest appearances in the series, the episodes "By Dawn's Early Light" and "Identity Crisis", and is also mentioned on the sleeve for his Emmy winning performance. he is the only guest star to appear twice in the set.
With thanks to Leslie Glen for this news item.


IT WAS 45 YEARS AGO TODAY
On September 29th 1967, a momentous occasion took place in the UK with the first UK televised screening of "Arrival".
45 years later and the series is still going strong with websites, events, meetings, interviews, discussions, and releases - testament to Patrick McGoohan's genius and the hard work of all those who helped create such a fantastic series. Here's to the next 45 years Prisoner appreciation!
To celebrate the series' 45th Anniversary, Network are having a "Prisoner" sale over the next 2 days (ending 1st October 11.59am)! Items include DVD box sets and soundtrack CD sets of both "The Prisoner" and "Danger Man" and have also provided a fantastic piece of web content in the form of Chris Rodley's 1983 interview with McGoohan which was done for the "Six into One" documentary (screened after "Fall Out" on Channel 4 in 1984).
Click HERE to access this exclusive content and view the great value items in the sale.
With thanks to Network Distribution and Simon Coward for this news item.


OWN A PIECE OF PRISONER HISTORY
One name synonymous with the success of "The Prisoner" is Eric Mival, who was Music Editor on 13 episodes of the series.
The Unmutual Website is delighted to announce that several new items have been added to The Village Shop thanks to Eric, including some very exciting one-off items!
Eric is making these items available for sale to fund his new project, a tool for teaching children mathematics using a set of CGI films and stories surrounding a character called Warehouse Will.
Not only has Eric signed some photos of himself (below) and provided a fantastic personally-photographed image of the "Harmony" set at MGM studios (above left), he is also auctioning off a set of original 1967 script pages from "Hammer Into Anvil" and his original Music Bible production book used during the making of the series! PDFs of the entire book are also available for sale and Eric has agreed that 10% of the sales will go to TUW's Hope House event fund, with the rest going towards the Warehouse Will fund.
Click HERE to visit The Unmutual Website Village Shop!
UPDATE: Eric Mival's Music Bible and script pages has been sold to a UK-based collector.


FESTIVAL THUMBS UP
The Unmutual Website is glad to confirm that the recent Festival Number 6 (see news item below) in Portmeirion received almost unanimous praise!
The weekend included live performances by bands such as New Order (who took to the stage to the series' theme tune wearing Prisoner blazers) and countless other activities (such as late night torch walks, left) throughout the weekend.
The days following the Festival also brought more visitors than is normally expected during wet weather and TUW can also confirm that whilst over 6000 people attended the festival, only 1 arrest took place, that no damage to any buildings took place, and that new turf has been laid to ensure that the village looks as impeccable as it did before the event.
The Unmutual Website would like to congratulate the organisers of FN6 and Portmeirion on a uniquely memorable and enjoyable event!
A selection of great images from the event can be found HERE. Online reviews, in addition to Portmeirion's own HERE, of the festival can be read HERE (GQ), HERE and HERE.

With thanks to Catherine Frumerman for the review links.



SECRET AGENT FAN
Fans of the Patrick McGoohan series "Danger Man" (AKA "Secret Agent Man" in North America) will be interested to see a fantastic fan tribute film which has been made, which takes the form of an entirely new episode of the series, based on an unused original script by Philip Broadley!
The episode, entitled "Vendetta for a Dead Friend", can now be viewed online HERE.
Produced and Directed by film-maker Napoleon Jones (who readers may recall produced "Stag Night of the Dead" which included several Prisoneresque elements), the episode is a not-for-profit fan film with no intention to infringe upon copyright. It stars the aptly named Patrick Freeman as the lead character John Drake, and Jones has wonderfully caught the atmosphere of the original series and comes highly recommended.


6 IS THE MAGIC NUMBER
Following on from the announcement below several weeks ago, more details have been published regarding "Magic Number Six", a one-act stage play written by Paul Gosling concerning Patrick McGoohan's relationship with Lew Grade.
The cast is now in place, which includes Rob Leeson as McGoohan and Colin Woods as Grade, and performances are set for 31/10-3/11 2012 at The Haywood Studio in Leicester (TUW will be represented on the Saturday if friends new and old wish to meet up) and tickets are only £5, available from the box office on 0116 255 1302.
With thanks to Paul Gosling and David Stimpson for this news item.


R.I.P. GEORGE LEECH
The Unmutual Website is sad to announce that George Leech, stuntman on "The Prisoner" who portrayed one of the security guards in "The General", passed away in June 2012. He was 80.
A highly respected stuntman, he is best known for his work on various blockbusters including several James Bond Films and supervising the stunts on the drama series "Gangsters".
TUW would like to extend its sincerest sympathies to George's family and friends. A full obituary can be read HERE.
With thanks to David Stimpson for this news item.


OCTOBER EVENTS WEEKEND ANNOUNCED
The Unmutual Website is delighted to announce that the weekend of 20th/21st October 2012 will see a wonderful array of events for "Prisoner" fans, including the return of Leslie Glen's excellent Mind Mash event, which has a packed programme of events, and no less than two Walkabout Tour events!
The mind Mash is taking place on Saturday 20th October 2012 (11am-5pm at The George pub (left) in The Strand, London) and will be packed with "Prisoner" discussions, presentations, screenings of rare material (including "Prisoner" out-takes and rare footage), and much more!
Sunday 21st will see a morning tour of "Danger Man" and other locations, with the full "Prisoner Locations Walkabout" in the afternoon. There will also be several other social get-togethers taking place on the Friday and Monday.
Tickets to the Mind Mash are just £5 to cover the venue hire cost (the event is non profit making, any left over monies will be donated to TUW's Hope House event fund) and can be purchased by Paypal HERE.
For full details on the weekends events, click HERE.
With thanks to Leslie Glen and Dave Lally for this news item.


JUBILEE POLOTSKA
The Unmutual Website is indebted to David Stimpson and Darren Stokes for the latest news concerning the Breda, AKA MS Polotska in "Checkmate" and "Many Happy Returns".
The photo left is of the boat as it is today (moored in Middlesex). Recently, spotted David, the boat took part in The Queen's Jubilee celebrations on the Thames!
For more information regarding Breda, click HERE.
With thanks to David Stimpson for this news item and Darren Stokes for the photo.


SAD LOCATION NEWS
Following on from the exciting location news from July 2012, August 2012 brings some sadder news to The Unmutual Website.
One of the most memorable sequences in "Do Not Forsake Me Oh My Darling" is the scene involving the Paternoster lift, where Number Six (in the guise of Nigel Stock) visits his superiors, which was filmed at the former GEC building in Borehamwood.
Sadly, the former-GEC building which housed the lift and corridors has now been totally demolished (see image, left) following the lift being boarded up in 2001.
Other worrying news is that Beachy Head lighthouse (which features in both "Many Happy Returns" and "The Girl Who Was Death") may be losing its iconic red and white stripes. Click HERE for more details on the campaign, which includes input from comedian Eddie Izard, to stop this happening.
For more details regarding both these locations, visit the locations guide.
With thanks to SR and Shirley Moth for this news item. Images (c) SR and Dave Healey.


SPIRITED ARTICLE
"Kindred Spirit" magazine's current issue (August 2012) features a fascinating article (left), written by Simon Wells, regarding Portmeirion and it's new Mermaid Spa, located in what was the Chart Room accommodation. The article, focusing on the more spiritual aspects of the village, also includes an interview with Craig "Puzzling Portmeirion" Conley and is on sale now.
In other Portmeirion-related print news, the August 18th 2012 edition of The Times newspaper featured a piece by Julie Burchill showing concern for the forthcoming Festival Number 6 (see below).
With thanks to Simon Wells for this news item.


LIVERPOOL TALK
When visiting Portmeirion, one of the features that visitors recall are the beautiful "Mermaid panels" which adorn the Gloriette building and elsewhere. These panels originally come from the Liverpool Sailors Home (pictured left).
On Saturday 15th September 2012, Portmeiriana expert Steve Mckay will be giving a talk outlining the history of this magnificent building, illustrated with photographs and artifacts from his own collection.
For more details regarding this event, visit the events page.
With thanks to Steve Mckay for this news item. Photo (c) Steve Mackay.


LIVING AT HARMONY
Since the demolition of MGM Borehamwood studios in 1974, where most of "The Prisoner" was filmed, there has been much discussion as to the pinpointed whereabouts of the locations used by the crew throughout the Backlot, in particular the Harmony set (especially the tree on which Kathy's brother is hung).
For several years it was thought to be a large tree which sits in the car park of the local Toby Carvery, or alternatively a tree in nearby Niven Close. The discussion has raged for years but finally, thanks to several members of the Facebook Group "MGM Borehamwood Memories" following on from earlier research conducted by Sam Denham, Crispin Hodges, and Tony Mckay, the mystery has been solved!
Sadly, the "lynching tree" no longer exists (the site of the tree is the middle of the road "Rutherford Close"), but the Toby Tree has been discovered to have appeared in harmony elsewhere, above the Blacksmiths to be exact!
To see the photographic evidence, click HERE and for more information on the MGM Backlot, including the pinpointing of Harmony but also several other "Prisoner" scenes, click HERE.


MAKING THE GRADE
Stage productions recounting aspects of the life of Patrick McGoohan are few and far between. The "Once Upon a Time" production of the late 1980s played to very mixed reviews, but more recently the very well received "Everyman" written by and starring Brian Gorman played to audiences throughout the UK and more performances are planned for the future (watch this space).
Now in 2012 a third effort is being prepared. "Magic Number Six" is a one-act play that chronicles the fascinating relationship between Patrick McGoohan and Lew Grade before and during the making of the Prisoner TV show. Casting is well underway for the production which is due to debut later in 2012.
The play, devised and produced by Paul Gosling (left) will premiere in the Haywood Studio, The Little Theatre, Dover Street, Leicester on Wednesday 31st October through to Saturday 3rd November 2012. It will be one of a triple- bill of plays as part of the theatre's one-act festival. More details will appear here and on the production's Facebook page.
With thanks to Paul Gosling for this news item.


SOCIAL CONVERSION
One of the most exciting aspects of using the internet in recent years has of course been the explosion of "social networking" sites, and The Unmutual Website is represented on two of these (namely MySpace and Facebook).
The sites also feature a plethora of other groups of interest to "Prisoner" fans!
None more so than the "MGM Borehamwood memories" page. With membership now firmly into 3 figures, the group sees a lot of "Prisoner" content and discussion and of course led to the discovery of the exact location of the Living in Harmony trees previously discussed here.
To "like" The Unmutual Website and receive its updates on Facebook, and read what other fans are saying and posting, click HERE. To Join the MGM group click HERE.
With thanks to Mike Grant for this news item.


PIERCY'S PORTMEIRION
Admirers of the fantastic Portmeirion artwork of local artist Rob Piercy, who operates the Oriel gallery situated in the Dome or Pantheon of the Village and has for many years created stunning images, will be delighted that a new book containing his latest work is due to be released in July 2012.
Mentioned on a recent edition of the S4C series "Pethe", where both Rob and Portmeirion Managing Director Robin Llywelyn discussed his work, the book will have both a Welsh and an English edition
For more details, you can visit Rob Piercy's Facebook page, or you can order the book at a discounted price by typing "rob piercy portmeirion" into the search box HERE.
With thanks to Roger Goodman, Catherine Frumerman, and Jill Mills for this news item.


LEGO VILLAGE BUILDS UP SUPPORT
Further to the earlier (below) news item concerning David Mackenzie's wonderful and well-renowned Lego Village (latest buildings left), Lego have started an initiative whereby if 10,000 supporters support a particular amateur Lego project, the company will consider making the design into a full on-sale set!
To vote for David's Portmeirion creations click HERE, or HERE for his Caterham Seven model.
With thanks to David Mackenzie for this news item.


MANUAL TRANSMISSION
Fans of Gerry Anderson's series "Thunderbirds" will be excited by a new book (June 2012), based on the famous Haynes car manuals but with a twist of being a Thunderbirds vehicle design manual!
Written by Sam Denham, who will be known to readers as a Prisoner Mini-Moke expert and owner, the book is available from Amazon via THIS LINK.
Whilst not strictly related to The Prisoner or Portmeirion, The Unmutual Website wishes Sam all the best with this project.

With thanks to Sam Denham for this news item.


ONCE UPON A TUBE
Another exciting DVD release has been announced by Network!
In 1987, the popular Channel 4 music show "The Tube" (presented by Paula Yates and Jools Holland) produced a "Prisoner" special, set in Portmeirion entitled "The Laughing Prisoner". Finally after 25 years the 50-minute episode is receiving a DVD release.
Starring Holland, Stephen Fry, Stanley Unwin, and featuring clips of Patrick McGoohan from "The Prisoner", the plot revolves around Holland resiging from Channel 4 and being upducted, Prisoner-style, into the village where only he and the above named people are residents.
Featuring musical performances from the groups Magnum, XTC, and Siouxsie and the Banshees, the special has good jokes, music, and footage of Portmeirion and is released later in 2012. Priced it seems at only £4, it can be pre-ordered by typing "laughing prisoner" into the search box on TUW's Amazon page HERE.
**UPDATE: It appears the release has been delayed until 2014**

With thanks to Geoff Lake, Alex Lydiate, SR, Helen Weathers, and Elliot Pavelin for this news item.


RARE MCGOOHAN PLAY RELEASED
Network DVD in August 2012 will again provide a rare gem for fans of Patrick McGoohan with their latest release of "Armchair Thriller" compilation DVDs.
Volume 3, due out on August 13th 2012, will include the 1961 TV play "The Man Out There", which stars McGoohan as a stranded Russian Cosmonaut whose only contact by radio is with a Canadian housewife with a sick child.
Screened at PM2006 but not seen on TV for over 50 years, McGoohan's performance has been described a "tour de force" and should not be missed by fans of his early work. Priced at £18 it can be pre-ordered by typing "armchair theatre 3" into the search box on TUW's Amazon page HERE.
In other "McGoohan DVD news", the film "Brass Target" will soon receive a Region 1 (North America) DVD release HERE.
With thanks to Moor Larkin and Tom Mayer for this news item.


APP'S THE WAY TO DO IT
One of the most exciting recent technological advances with regards to new mobile smart phones has been the ability to download applications, or 'apps', providing various information or activities for users to enjoy.
The Unmutual Website was therefore fascinated to receive a communication this week regarding what is believed to be the first ever "Prisoner App", produced by Prism Apps and entitled "The Prisoner Compendium", available for the iPhone and iPad.
The compendium is a collection of quizzes, information, locations, and guides related to the series and is available from app stores and itunes at a cost of $1.99. Click HERE to visit the itunes store.
COMPETITION:
Prism have been very kind and donated no less than THREE free download codes of the app to The Unmutual Website. To be in with a chance of winning (entries close 18/6/12), simply send an email to TUW and answer the following question; "In "Arrival" what does the operator reply to Number Six's line; "haven't got a number"? 3 randomly drawn correct entries will win the prizes.
UPDATE: Winners: EP (Berks), SL (Manchester), DJ (Canada). Answer: "No number, no call!"

With thanks to Eliot of Prism Apps for the news and giveaways.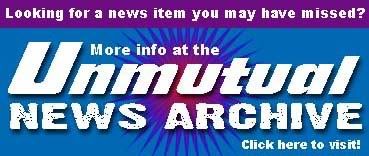 THE UNMUTUAL. An online non-profit cyber-magazine, intended to serve as a free news service for fans of The Prisoner TV series, its star Patrick McGoohan, and Portmeirion in aid of Ty Gobaith Hospice. Promotion of Prisoner merchandise provided entirely free of charge for the benefit of Prisoner fans. Neither this website nor events run under its banner are connected with any society, group, or fan club whatsoever, or any other website using the name "Unmutual". No responsibility can be taken for individuals unconnected with this website claiming to act on its behalf.
Compiled, written, and hosted by Rick Davy. Words and Images may not be reproduced without prior permission, and are © Rick Davy and The Unmutual Website unless otherwise stated. "The Unmutual" logo design, "Unmutual News Archive" logo design, and the character "Alistair Sadgitt" are all Copyright © Lew Stringer 2004. Not to be used without written or emailed permission.
Thanks to the various sources for supplying the news items and everyone for their continued help and support (you know who you are) and to Lew Stringer, who devised and originally ran The Unmutual Website.

The Prisoner is Copyright © Granada Ventures.
Site last updated: 18/5/2013. Site History: Click HERE.
Keep checking back for more Unmutual Updates, or subscribe to our email updates!!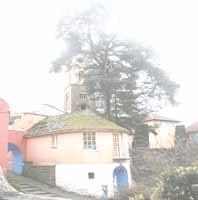 All profits from The Unmutual Website and its events are donated to: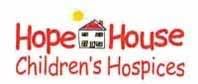 Total raised so far:
£3547.79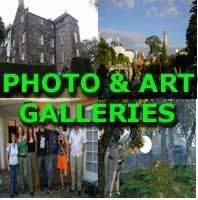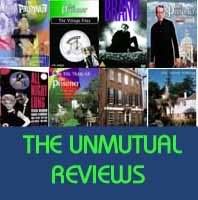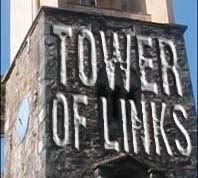 ________________________